Are you a DIY customer looking for replacement uPVC windows? Or maybe double glazed aluminium windows are more suitable for your West Midlands home. Whether you want to heighten your home's energy efficiency, improve its appearance or a combination of the two, if you want to get an accurate quote it may be an idea to measure up replacement windows yourself. Replacement windows are a fair investment, so you want to get the size right the first time around. Allow us to explain the basics and put you on the right track towards beautiful new replacement windows for you or your customers home.
PLEASE NOTE: If you are a West Midlands homeowner, by enlisting our services for a supply and fit quote you won't need to measure for replacement windows as our surveyors will do all the work for you. Get in touch for further information.
How to measure for replacement windows in the West Midlands
Step 1: Measure replacement windows in cm's & mm's
To avoid any room for error, remember that British window manufacturers and fitters use the metric system for replacement windows; centimetres and millimetres, not feet and inches. So, be sure to measure replacement windows in cms and mm's for the most accurate measurements.
Step 2: Take window measurements from outside the home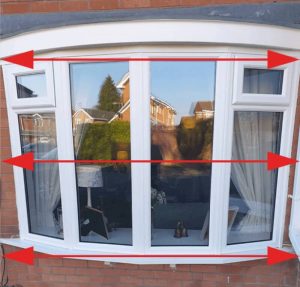 Due to the possibility of warped window frames, always measure for replacement windows from the outside of the building. With this in mind, it's important to take height and width measurements from the brickwork opening around the window frame and from underneath any existing window sills.
Step 3: Measure replacement windows brick to brick X3
To be sure you have the correct measurements, especially if the window is not completely square, it's crucial to take at least 3 measurements from the top, middle and bottom for the height and again for the width.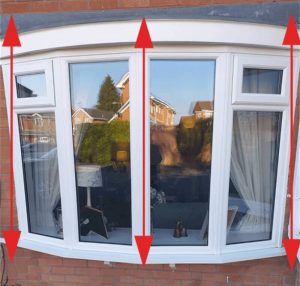 Step 4: Calculate final measurements by subtracting 10mm/1cm
Using the smallest measurement, now take away 10mm/1cm from your final height and width measurements. This allows a small fitting allowance for the double-glazing specialist to fit the replacement windows precisely and securely with the aid of window spacers.
Step 5: Check, check and check again!
Double or even triple check your measurements before handing them over to the window fitter or manufacturer, as you want to be 100% sure that they are correct – as once the window is manufactured, you (or your client) will have to pay for it whether it fits or not!
Are you aware of the FENSA regulations? Watch our informative vlog on this.
Choose DW Windows for high-quality replacement windows across the West Midlands & Wolverhampton
How to measure replacement windows is easier than it sounds but, then again, no-one wants to be stuck with a window that doesn't fit! So, if you're in any doubt at all on how to measure windows, don't hesitate to contact the DW Windows team for expert support and advice. Feel free to get a free online quote from us too, for high quality double glazing throughout the West Midlands.
Related posts:

The top window styles – our guide to help you choose new windows

How long do uPVC windows last?

10 things to consider when replacing your windows

6 reasons to choose DW Windows as your West Midlands installer