So, you're considering window replacements for your home or extension space but you're unsure what kind of style will complement the property. Choosing the right window style can truly make or break a properties kerb appeal, so it's paramount that you get it right the first time.
Enliven and motivate your own home improvement project this summer, with this helpful guide to the top window styles in the West Midlands.
Find a window style that enhances your West Midland home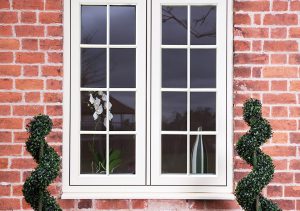 1. Flush sash windows
Handcrafted uPVC flush sash windows are changing the face of heritage homes across the West Midlands and beyond. Replicating the distinctive timber look with ease whilst preserving classic heritage details, the name indicates the beautiful way that these windows sit flush within their frame. Sourced from the leading timber effect uPVC window brand, Residence Collection flush sash windows infuse authentic timber looks with all the 21st Century perks of uPVC.
Conservation & planning compliant
Higher thermal benefits than original timber
Low maintenance; unlike timber, they won't warp, rot or corrode

2. Casement windows
Versatile uPVC casement windows are Britain's 'go to' window style, as their sculptured or chamfered frame options suit both traditional and contemporary settings alike. Opening from the side or from the top, casement windows are incredibly user-friendly, strong and secure. You can't walk down a West Midlands street without seeing them and it's not hard to see why!
Cost-effective
Capable of A+13 energy ratings
Low maintenance
3. Sliding sash windows

Elegant uPVC sliding sash windows are the ideal solution for homes (old and new) that require a timeless appearance and effective ventilation. Providing the familiar vertical sliding window operation that we all hold dear, complete with cutting-edge inward tilting as standard, timber alternative sliding sash windows don't get any better than this!
Classic appearance enhanced with breakthrough technology
Higher thermal benefits than original timber
Low maintenance; unlike timber, they won't warp, rot or corrode
4. Residence Collection timber effect windows

The Residence Collection has revolutionised the uPVC timber effect market like no other. Offering four fantastic timber alternative window styles, R², R7, R8 and R9, from listed to heritage and contemporary to new build properties; the Residence Collection have a personalised window style to suit all requirements and tastes.
Breath-taking aesthetics
Conservation & planning compliant
Low maintenance; unlike timber, they won't warp, rot or corrode
5. Apeer Lumi windows

If you haven't heard of Apeer Lumi windows, you really are missing out! Offering the newest 'seamless glazing' experience, they provide ground-breaking wall to wall expanses of glass for the ultimate minimalist appearance. These completely flat, glass-fibre reinforced profiles are triple glazed and toughened as standard and available in a range of on-trend colours.
Enviably flood spaces with natural light
Achieve impressive energy ratings and U-values
Secure weather-resistance
Cost effective window solutions for homes across Wolverhampton and the surrounding area
High-quality, correctly chosen double or triple glazed windows can add at least 5% onto your property value. At DW Windows all of our windows are incredibly efficient and secure, capable of the highest energy ratings and the lowest U-values. Even better, finance options are available on all orders over £1,000. So, what are you waiting for?! Contact us today for a free, no obligation quote or to discuss your options further.
Our customers love their new windows – find out why by checking out our video testimonials page.
Related to this topic: Is triple glazing worth the investment? (Wait until you see the figures!)