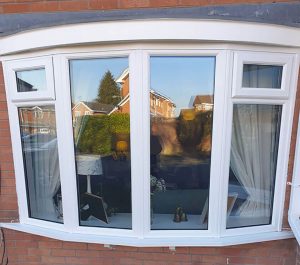 Thanks to advances in technology, double glazed uPVC windows remain a firm favourite with house builders across the West Midlands and beyond. Typically lasting around 20 years, which can vary between 10-35 years depending on the quality and upkeep, if your uPVC windows were installed around 1999 it's likely that they could need replacing or at least repairing by now.
How do you clean plastic windows?
Other than exceptional thermal efficiency, uPVC windows are incredibly low maintenance. However, they still require minor attention every now and then to retain their flawless aesthetics and optimum performance for as long as possible. So, unless your window installer has stated otherwise, a quick wipe down of the frames with a soft (non-abrasive) cloth and soapy water, combined with a quick spray of oil on the moving parts, will keep your windows in tip-top condition for as long as possible.
Can misted double glazed windows be repaired?
uPVC windows can sometimes become misted or 'fogged' due to seal failure, where in some instances the glass can simply be replaced instead of the whole window.
How do I know when my uPVC windows need replacing?
Unfortunately, it's not always possible to repair double glazed uPVC windows. So, if any of these problems apply to your window frames it's more than likely that they will need replacing;
Cracked, chipped or broken glass
Water leaking through the frames
Draughty frames

Can I fit uPVC windows in a conservation area?
As long as you have permitted development rights, there is no legislation that can legally prevent you from installing uPVC windows in your house – although local authorities prefer that the window style is in keeping with the style and period of the property, as well as the surrounding area. If your home is a listed building or restricted by an Article 4 Direction, your best bet is to consider timber effect windows from the Residence Collection. Perfectly replicating classic timber windows, this premium uPVC window system has been primarily designed and engineered to meet British conservation guidelines.
uPVC windows vs timber
Although authentic timber windows are naturally stunning, the downsides are not so appealing! Who has the time to regularly varnish and clean timber windows, in order to retain their instinctive charm? Vulnerable to insect infestations, timber windows also have a higher rate of double-glazed unit failure. In stark comparison, wood effect uPVC frames are incredibly weatherproof, low maintenance and will not rot or corrode either – which is why we choose Residence Collection windows over real timber windows any day.
High-performance, long-lasting uPVC windows
Offering a 10 year product and work guarantee on all of our high-quality home improvement products, get in touch to discuss your home improvement plans further or watch a few of our video testimonials to find out why savvy West Midland homeowners and landlords choose DW Windows.
Related posts:

How to measure for replacement windows

7 tips for choosing new uPVC windows

How to measure for replacement windows