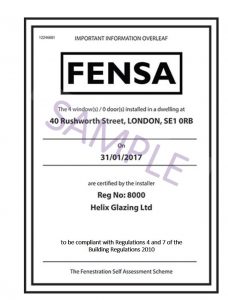 Hello, I'm Dave Walters of DW Windows and I thought I'd try and make some sense of the Fensa regulations for you; try and put them into layman's terms really.
So, what are the Fensa regulations?
It was bought in in April of 2002, so 16 years ago or so, to ensure double glazing companies were fitting windows correctly and that they complied with current building regulations.
DW Windows are a Fensa registered company and basically what that means is we have got the authority through vetting and various other things that Fensa have done on us. We've had the authority to certify that the job has been installed to Fensa or building regulation standards.
What that means is when we fit the installation, we have to make sure that we use the correct glass, fire escapes, looking and bearing in mind the safety and structure of your building as well.
Once we're happy with that and once we've fitted the job, we will register the job with Fensa and they will send you a certificate within 30 days. They may want to come and check up on us and make sure, either during the installation or after the installation – they may get in touch with you to come and check on us basically. So, although we're a self-regulating company, we do get checked up on.
Today I'd like to talk a bit more about structure, which is Document A of Fensa or the Building Regulations.
Approved Document A | Part A – Structure
What this means is that we have to ensure that no windows or doors are low bearing. In the past, in the 1930's they used to use big thick timber frames and actually build on top of that. Which was fine back in the day but when we come and change the windows for plastic windows, that are half the size, obviously they can't take the strain. So, we have to basically ensure that the structure isn't going to be affected by us fitting new uPVC windows.
These are frequently asked questions that people have asked me over the years:
1. Do we have to fit lintels to every window and door?
In new build; yes. Anything under the current regulations, a lintel must be fitted, and the builder will do that.
Replacement windows; no, we don't have to fit a lintel every time. So, if we're changing your windows and your windows already have lintels in or whether there are soldier bricks above the window and they are doing the job (not failed in any way), then we don't have to charge people for a lintel just for the sake of it. As long as we're satisfied that the new windows are not receiving any of the load from the building.
2. How do we know if a window's going to need a lintel?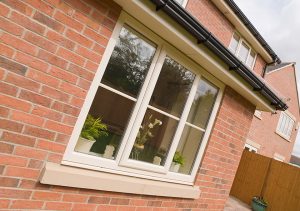 Well, it's through experience mainly. This is what we do, day in day out. Our surveyors are all time-served surveyors who can spot for various tell-tale signs. First one being, broken glass in the existing window. If there's any weight on that window, the first thing that's going to break is the glass. Secondly, any cracks above the window. The normal 'pyramid' crack in the brickwork above a window that we see from time to time, that's a tell-tale sign that as soon as you take that window out the bricks are going to fall out – and that's the last thing that we want.
And local knowledge, as well. We may have worked for your neighbours, we may have worked in the area, we may have seen your type of property before and we can normally tell in advance – but not every time. We can look at a job and think 'yes, this is a 1970's house / 1980's, it's got to have a lintel in; it should be ok.' But it might be an unscrupulous builder who built it not to regulations. We turn up, try to take the window out and the brickwork starts to drop. So, what we like to do is only charge people for lintels whenever we are sure that it needs one. Sometimes, customers do get caught out. We start taking the window out, the brickwork starts to move and then we do have to have a conversation with the customer to agree a price for fitting the lintel. The last thing we want to do is fit lintels. We're a double-glazing company, so if every window in the world had a lintel in, we could just come in without any danger of that brickwork moving, then happy days! We have to charge customers for a lintel, it's not to make money; we've just got to do the job properly.
3. Who has to pay for the lintel?
I've just mentioned that it's the customer's property so the customer needs to pay for the lintel. There are companies out there who will say they'll 'turn a blind eye and we'll put some packers up there and a bit of silicon and it'll be alright.' We're not that way inclined, we'd rather do it properly. We do lose some jobs because we only do jobs properly. But it is down to the customer to pay and what we normally do is, in advance, we'll arrange a price for doing the lintel if it's obvious it needs one. Or we'll say, 'we're unsure, we can't tell until we take the window out, we'll bring some lintels with us anyway and we'll agree a price'; just in case we have to fit one when the fitters turn up.
4. What about load bearing bay windows?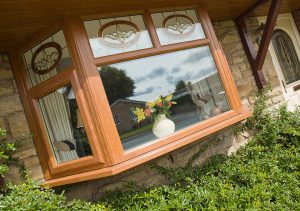 Load bearing bay windows are normally in the old sort of traditional 1930's houses, bay windows with brickwork or tiles above; there's a lot of weight. Even in some cases, they take the weight of the roof of the main building above. So, there are various other things we can do. We can strengthen the frames, and we always use reinforced bay poles; which is an aluminium or steel reinforcement in the joint of each window, just to transfer some of that weight from the brickwork above down through the sill into the ground. If it's worst-case scenario we do jacking plates, which are small acro props that basically go inside the actual bay pole which can be wound up to lift the head a bay window and take any weight off the new window that we're fitting below.
So, that's a little bit about the structure. I'll get back to you soon with the next section, but I hope that makes a little bit of sense. Like I said, there are companies out there who will bend the rules, but we try and keep it straightforward, honest and if we're going to do a job, we only want to do it properly.
So, thanks for reading and if you do want to speak to anyone and get any advice its DW Windows. You can check us out on Facebook and on the internet www.dwwindows.co.uk or if you want a free quote give us a call on 0800 999 0909. Thank you.