Now that we are well and truly in the grips of winter, it's not uncommon for homeowners to completely avoid their conservatory rendering it completely useless for 6 months of the year.  If this situation sounds familiar, it may be because your older conservatory is fitted with either a polycarbonate roof or an ineffectively double-glazed glass roof that has very few insulating properties. You should be able to enjoy this space all year round, that's why we're here to give you some top tips for keeping your conservatory warm throughout the cold winter months.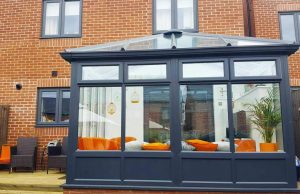 Replace your conservatory roof to retain heat
Conservatory roofs are notorious for allowing heat to escape, especially ones which were built more than 10 years ago. Thankfully, advances in manufacturing and glazing technology mean that it is now easier to prevent heat from escaping though the roof. Doing this is proven to reduce the amount of money you spend on energy bills. Outlined below are two conservatory roof options which are a cost-efficient way to turn a cold conservatory into a comfortable space you can use all year round.
Glass roofs
Our modern glass roofs offer the feeling of light and space, as well as meeting modern energy efficiency standards. We use self cleaning glass as standard, for example, Pilkington Blue active or Ambi blue which are both approximately 10 times more energy efficient than polycarbonate.
Solar controlled glass, such as Pilkington Suncool, is a relatively new option that gives even better levels of insulation than our standard glass.
We offer a super high-performance glass roof conservatory in our Livin Room glazed extension. which gives a standard glass roof the Orangery look and feel at a fraction of the cost and without the cost or hassle of having to get building regulations certification.
Tiled roofs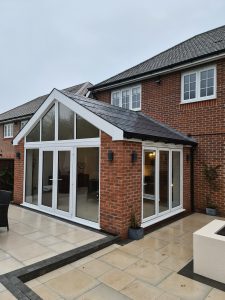 If you want to benefit from enhanced privacy, and a conservatory with more of a permanent feel, why not opt for a high performance Equinox Tiled Roof? The Equinox roof uses lightweight tiles in an easy-install system, to create extra cosy spaces for you and your family to enjoy.
Invest in double, or triple, glazing
Older conservatory windows often use outdated glass that is neither thermally efficient nor energy efficient. Thanks to modern technology, our conservatories offer impressive thermal performance. In fact, we use the same frames and glazing that go into making our A+ rated windows!
In order to integrate your conservatory with the rest of your house (Take out the set of doors that are between the house and conservatory), the conservatory will need to comply with certain energy standards. Luckily, with high performance double or triple glazing from DW Windows, we can help make that happen! You can still enjoy natural light and open-plan living, at a year-round comfortable temperature.
Conservatory Radiators
Conservatory heaters come in many forms. One of the most popular choices is electric radiators. These look similar to traditional radiators but can be installed with minimum cost and disruption. It is usually costlier to run electric radiators but they are also cheaper to install. They are often more controllable because they can be turned on or off when the room is not in use.
Another option is connecting an existing central heating system to the conservatory. This approach requires the radiator in the conservatory to have the ability to operate independently and be easily isolated from the rest of the house or Building Regulations approval will be needed.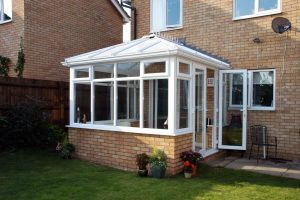 Portable Electric Heaters
A portable electric heater is a convenient way to heat a cold room. They're ideal in conservatories on cold mornings before the primary heating system hasn't yet taken full effect. They are also generally cheap to buy, and easy to use. There are a number of options:
Radiant heaters provide instantaneous heat by passing electricity through a series of heating elements.
Fan heaters provide instant warmth; however, they are one of the most expensive heaters to run and they tend to distribute heat to a single area of the room.
Oil-filled radiators take time to heat up but then continue to emit heat long after being turned off.
Conservatory blinds
One of the most overlooked, and yet effective means of keeping a home warm is through the use of heavy curtains in front of the windows. These hugely negate heat transfer, especially when one considers their cost. In conservatories, it's usually blinds that are favoured over curtains, but the principle applies just the same.
In order to get the best out of a set of blinds, open and close them throughout the day. During the daytime, the blinds should be opened in order to allow sunlight in. Once the sun begins going down, blinds should be closed in order to prevent heat from escaping.
Improve your conservatory with DW
If you're looking to make the most of your conservatory all year round, why not talk to our team of experts about how we can improve your existing conservatory. Contact us online or give us a call on 0800 999 0909 and get your home makeover plans firmly on track.