Here at DW Windows, we're proud of our extensive industry knowledge and we make it our priority to help customers understand exactly what we offer. With this in mind, we've compiled a list of the most frequently asked questions we receive when it comes to replacing doors, so whether you're replacing your front or rear entrance doors, we're here to help you find the right replacement solution for your West Midlands home.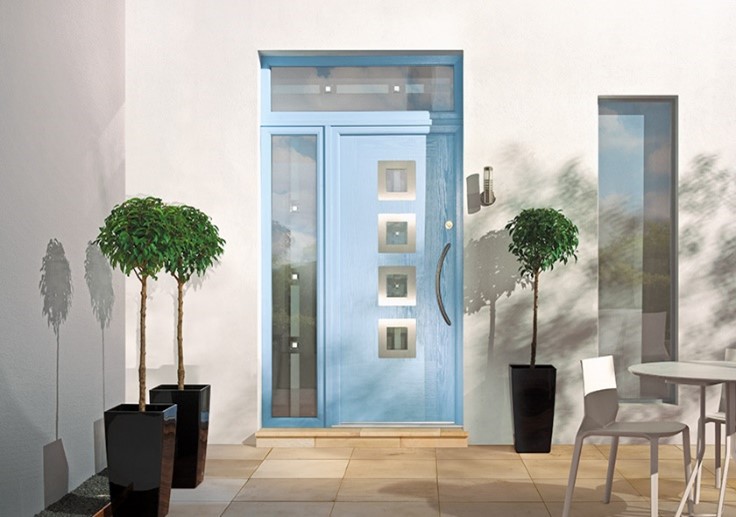 How do I know when I should replace my doors?
Here are 3 tell-tale signs that it might be time to replace your doors. These problems can affect both the front and back doors of your home.
The hot air of summer and the cold air of winter should not enter through any closed doors in your home. If you are feeling drafts with each season, it may be time to replace your doors.
If you can see moisture building up in-between your double glazing panels it may mean that the seal between those two panes has worn away and is failing to keep moisture out of your home. Over time, this can cause mildew and/or mould to build between the panes of glass. Mould in homes has been linked to health complications such as skin rashes, respiratory problems, and other allergic reactions, so it's important to address the problem of moisture in your home before the problem escalates.
If your door is difficult to open and close, it's probably time to consider replacing it. Not only is a door that is sticking or jamming really annoying, but it can also pose a security threat. Doors that aren't operating properly are not as secure and are often easier to break in through. It can also indicate a deeper problem that heat is being lost from within your home. This will cause your energy bills to increase. If your door is sticking, you'll probably notice exposed areas, either down the sides or the top or bottom of the door, where you can see light. If you can see light through these exposed gaps, its highly likely hot air is escaping your home.
What material should I choose for my door?
We offer 2 innovative material choices with our front door range;
Composite front doors: At DW, we offer composite doors from three distinct brands; Apeer, Rockdoor and Thermacore. This variety means you'd be hard-pressed to find a wider range of high-quality composite doors anywhere in the Midlands. Although we offer a vast range of composite doors, each and every door can be personalised and individualised to blend in seamlessly with your existing property. Use our door builder to customise your dream composite door and discover which manufacturer would be best for you.
uPVC front doors: The Liniar uPVC entrance door range provides homeowners with a viable entrance door option, that's as equally energy efficient & secure as it is economic & aesthetically pleasing. Find out more about our uPVC front door options here.
We also offer two material choices with our rear entrance door range;
Aluminium back doors: Aluminium's practical qualities and industrial beauty deliver a multitude of benefits to savvy homeowners throughout the West Midlands. Give your home a classy touch without sacrificing warmth or security with one of our luxurious aluminium door options.
uPVC back doors: uPVC French & patio doors from Liniar offer homeowners the ideal way to open up their living spaces & welcome the outside in. Our sensational patio door range is a simple, modern & classic way to conserve space, whilst our fantastic French door collection offers a more traditional, charming feel to any home they're applied to.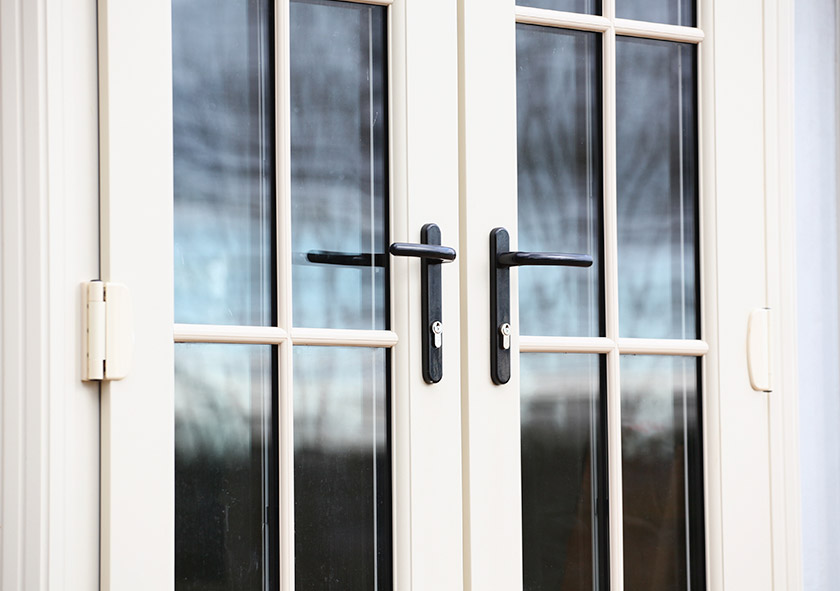 Do I need to get planning permission before replacing my doors?
You do not usually need to apply for planning permission if you're replacing your old doors with new ones.
If you live in a conservation area, and you are unsure whether you are allowed to replace your doors, it may be worth seeking advice from your local council. The general purpose of a conservation area is to preserve and enhance areas of special architectural or historic interest, as well as seeking to minimise the loss of the existing build and natural environment. The key thing here is that you replace your doors with ones that are similar in style to those that were used within the original construction of the property.
How secure are your doors?
No matter what material you choose for your doors, or whether you're replacing front or back doors, DW promise the utmost security and peace of mind.
Within our range of aluminium doors, you can expect advanced security hardware like multi-point locks and internal beading, whilst the robustness of aluminium ensures that the rigidity of our doors will not deteriorate as time goes on.
When choosing a uPVC door from us, you're guaranteeing the safety of you and your family. Each of our door options is fitted with a selection of high-performance hardware to ensure they offer a robust layer of defence for every home.
Our composite doors are successfully tested to the highest standards set by the leading police initiative, Secured by Design. Read more about our composite door security, and what our three manufacturers have to offer, here.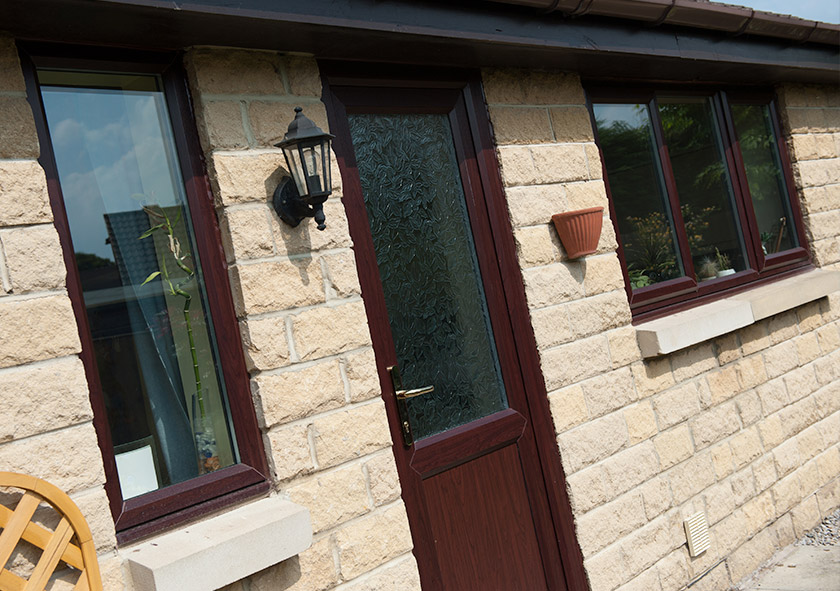 What type of doors do I currently have?
If you're thinking about replacing the doors in your home, one of the first things you'll need to do is to identify what kind of doors are already in your house.
Material: Identify the type of material used in your doors. It's likely your doors will be either uPVC, timber, composite, aluminium or steel. It's usually quite easy to identify the material used, simply by examining the interior and exterior of the door and feeling the door itself. If you are struggling to identify the material, you can try to locate the name of the manufacturer somewhere on the door. A quick internet search of the manufacturer may help identify the material you currently have. If you are really unsure of the material you have, you could ask one of our experts when you enquire with us and we will do our best to help.
Opening: Identifying how your doors open is another important point to recognise. This is often more important when replacing rear entrance doors, as there are multiple opening variations. Front doors commonly open outwards on side hung hinges.
French doors: Usually installed in pairs, these are traditionally hinged double doors that open onto your garden or patio. French doors contain a central frame with multiple transparent panels.
Bifold doors: Bifold doors open in a concertina fashion. They're made up of multiple panes or 'leaves' which fold back on themselves in order to open up an entire aperture.
Patio doors: Patio doors tend to be designed using two or more large panels of glass, which smoothly slide to the end of the door frame.
What do door energy ratings mean?
Door energy efficiency rating schemes are based on a scale that ranges from A-G. This system is similar to the labelling system used that you may have seen on fridges, washing machines, and cookers. An A rating indicates a good level of energy efficiency, whilst G is the lowest rating. Low rated doors will not normally satisfy building regulations requirements. We're confident that all of our doors, front and rear, meet or surpass the recommended energy efficiency level. Find out more here.
What colour options are available for my new doors?
uPVC: Our customers have access to a selection of gorgeous glazing and hardware options, so you can ensure your uPVC door gives off the impression that you desire. There's also an impressive palette of smooth and woodgrain finishes to consider, and because uPVC is resistant to discolouration and cracking, whatever finish you choose you can expect it to retain its quality for years to come.
Aluminium: As we're able to offer our customers the full range of colours, along with a variety of bespoke hardware and glazing options, it's really easy to personalise one of our aluminium door solutions to your specific taste. We can also offer versatile dual colour options. This means that the colour on the interior of your door can be different from the exterior. This is beneficial to homeowners looking to match new windows and doors with their existing décor.
Composite doors: Make your composite door your own by adding a splash of colour or a wonderful woodgrain finish. Use our door designer to customise your dream composite door.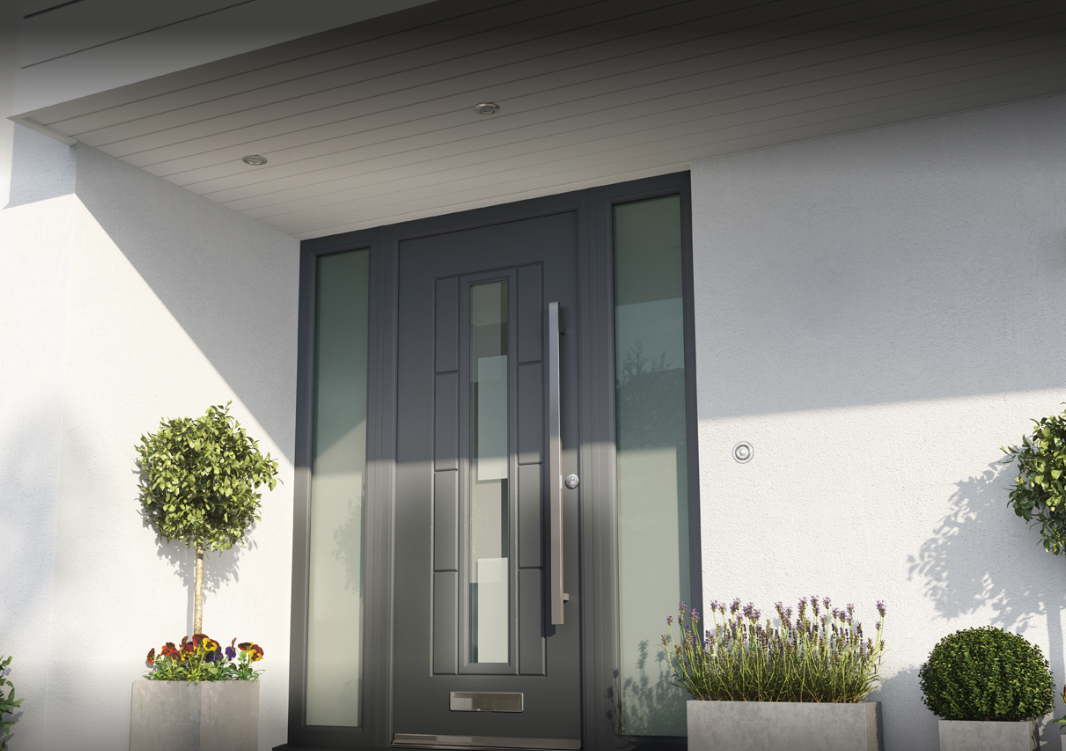 What is a FENSA certificate for doors?
A FENSA certificate is only required if the door is more than 50% glass.
FENSA, or the Fenestration Self-Assessment Scheme, was created to make sure that windows and doors installation companies meet the latest building regulations. FENSA's goal is to professionalise installers in order to improve window and door replacements across the UK and protect homeowners. FENSA certificates remain valid for as long as the doors last. A new certificate is necessary when the doors are replaced.
DW are here to help with your new door
If you require any further information, or you have a question we haven't answered here, don't hesitate to contact our team of skilled professionals where you can also get a free, no-obligation quote. We look forward to helping with your door replacement project.