It's that time of year again; the leaves are falling, there's a chill in the air and many of us are counting down the days until the Christmas holidays begin! With Halloween just around the corner, October also celebrates National Home Security Month. Raising awareness around the importance of home security, did you know…
So, if you have a uPVC front door it's the ideal time of year to review your home security and protect your family with the help of a high-performance composite door from DW Windows.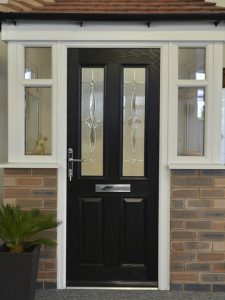 What is a composite door?
Composite doors are one of the strongest door systems around, thanks to their unique fusion of durable materials. At DW Windows we offer 3 high-quality composite door collections that boast the following security benefits:
Apeer composite doors
Apeer 70: 70mm high-density polyurethane foam, extra insulating double rebate, GRP inner frame, anti-tamper triple glazed units, double steel hinge bolts, multi-point locking, anti-pick, anti-snap cylinders, Secured by Design and PAS 24 certification.
Apeer 44: 44mm high-density polyurethane foam, double glazed Q Seal warm edge Super Spacer system, multi-point locking, anti-pick, anti-snap cylinders and Secured By Design and PAS 24 certification.
The Dales Collection
GRP outer skin, rigid foam infill panel, uPVC inserts and edge banding, the latest five-point anti-bump cylinder locking system, three-way adjustable hinges, stainless steel hardware with a 25-year guarantee, £1,000 money-back security guarantee and Secured By Design and BM Trada Q-Mark available.
Rockdoor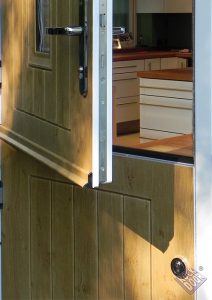 Reinforced inner and outer frame, steel hooks and keeps, S-Glazing (provides greater resistance to glass removal), 3-star diamond cylinders, deadbolts, steel security mesh, three-way adjustable hinges, a tough 3mm uPVC door skin that resists cutting and impacts and Secured By Design and PAS 24 certification.
What is GRP?
GRP stands for Glass Reinforced Plastic, which is also known as fibreglass. Offering more strength than steel, this lightweight construction material actively resists corrosion and warping or bowing; an issue that can arise with old or inferior uPVC doors. Used to construct boats, cars, pipes ad roofing, it's not difficult to understand why it makes such a great door material.
What is steel security mesh?
The Rockdoor composite door is slightly different from the others, as it utilises steel security mesh and uPVC. Made from a galvanised steel sheet, the inclusion of steel security mesh makes the robust door sash 4 times stronger.
West Midlands homeowners | Take advantage of our latest composite door offer; just £1,045!
Our composite doors are around 60% stronger than standard composite doors, thanks to their high-density cores. Even better, we currently have an exciting offer on any standard composite door for just £1,045.00 inc. VAT which includes white recessed GRP and a 10-year insurance backed guarantee – all fully fitted subject to site survey.
We also have some fantastic finance options available, where you can pay monthly or buy now, pay later. Give us a call on 0800 9990 909 or contact us online to find out more.
Related to this topic:
Composite front doors: 5 reasons why we love these types of entrance doors