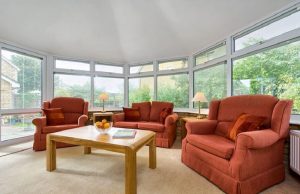 Is your conservatory stuffy in summer yet freezing in winter? Is moss, mould and condensation taking hold of your conservatory roof, making it an unwelcoming place you no longer want to visit at any time of the day? If your roof is crying out to be replaced, and your glazed conservatory wants to be loved again, read on to find out how easy it is to put the heart back into your conservatory.
Is replacing my conservatory roof really necessary?
Left unattended, your roof will continue to make your conservatory an inefficient and inhospitable space. Getting your conservatory roof replaced will not only save you money in the long run but will also give you back a place you can enjoy morning, noon and night, all year round.
What conservatory roofing options are available?
A polycarbonate conservatory roof is the least expensive option; however, it has limitations in its ability to maintain a comfortable temperature in different seasons. Polycarbonate roofs often make a conservatory unbearably hot in summer and freezing in winter.
A glass conservatory roof will provide your conservatory with arguably the best access to light, giving your room a bright and airy feel. Modern-day technology means glass roofs are also far more climate and energy-efficient than their polycarbonate counterparts.
Tiled conservatory roofs offer superb thermal performance, excellent noise reduction (no more noisy pounding rain) and the flexibility to really personalise the end result. Choose to have additional skylights, different colour tiles and a customisable roof pitch. The plastered ceiling will allow you to add beautiful finishing touches with spotlights, built-in speakers or maybe even a decadent chandelier.
Do I need planning permission to replace my conservatory roof?
If you just want to replace your existing conservatory roof, only in a very few cases is planning permission required. However, dependent upon your local authority, Building Regulations may be needed. You can get any information you need by contacting the Local Authority Building Control for England and Wales, or get in touch with DW Windows for further support on local planning permissions and regulations.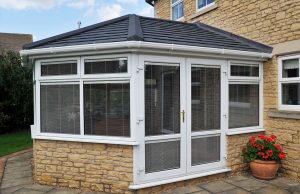 How long will it take to replace a conservatory roof?
The time it takes is dependent on the size and condition of your conservatory, and which type of material is being used. However, as a rough guide, an average-sized conservatory (2.5m x 3m) should take between 3 to 5 days to professionally install
Can I replace my conservatory roof myself?
Unless you are a qualified installer, it is always recommended that you employ the services of an experienced double glazing specialist to avoid unnecessary extra costs and heartache further down the line.
High-quality tiled conservatory roofs West Midlands
So now you have those much-needed answers, change your tired conservatory roof and enjoy your room once more.  Contact us today and we will be delighted to discuss your options and arrange to give you a free, no-obligation quote.
Other replacement services
We also have a Window replacement service and a patio door replacement guide for all your glazing replacement needs.