So long as the porch base is under 30 square metres, it shouldn't require building regulation approval. You should also ensure that the porch's glazing and any fixed electrical installations comply with building regs before you proceed.
Yes, it's never been easier to install a fantastic new porch. A uPVC or composite porch can add value to your home and dramatically increase your kerb appeal. With DW Windows, we offer porches with weather protected roofs and a fully customisable range of colours and accessories. All this without the hassle of applying for building regs approval!
However, a porch's size is not the only thing to consider when getting the go-ahead to start construction. This article will run through the other key factors to think about when building a porch without building regs, including:
The difference between building regulations and planning permission
Other requirements for bypassing building regs
How to avoid applying for planning permission
Build over licenses for sewers
Other frequently asked porch questions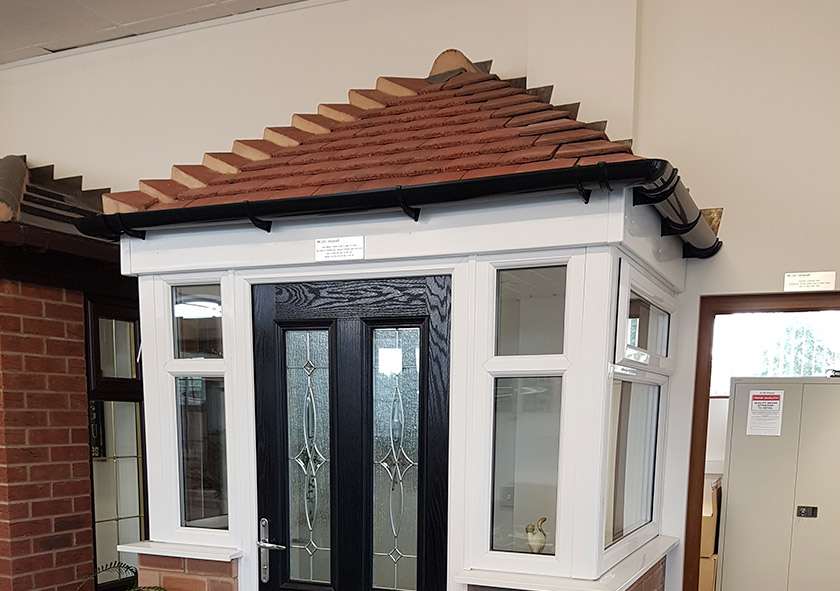 What is the difference between building regulations and planning permission?
Building regs and planning permission are entirely separate things. If you're thinking of adding an extension to your home, you'll want to consider both.
What are building regulations?
These deal with the quality of the building work itself. They set the minimum standard for the design and construction of building projects. They apply to both internal builds, such as staircases, and external builds like conservatories and other glazed extensions.
What do building regulations check?
Considerations can include:
Fire safety measures
Structural integrity
Occurrence of toxic substances (e.g. asbestos)
Noise insulation between your property and your neighbours'
Underpinning of the building's foundations
Water and weather resistance
Safety of any electrical installations
What is planning permission?
Planning permission is granted by your local council authority based on the external appearance factors of your building project. It's a system in place to prevent 'eyesores' which are too big, too brash, or just too different. Essentially, planning permission ensures that any landscaping projects are in keeping with the aesthetics of the local environment.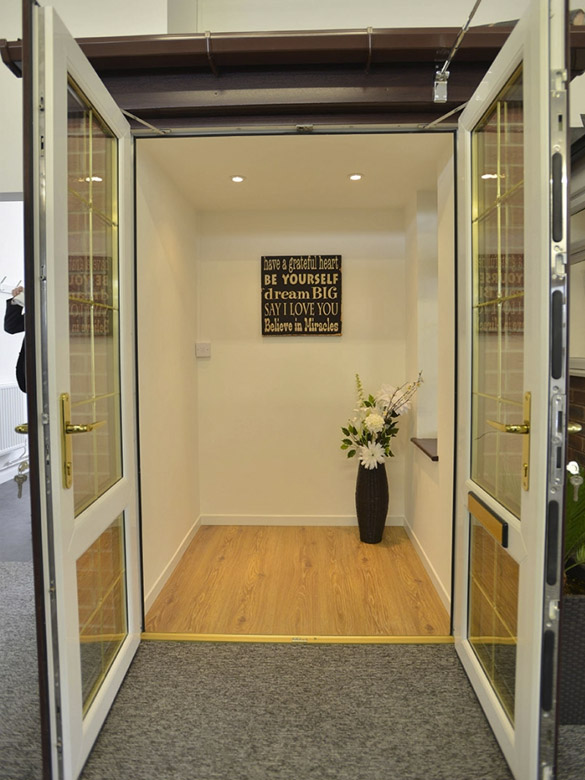 Do I need building regulations for my porch?
As we've already discussed, a porch can be up to 30 square metres in surface area before building reg approval is necessary. However, there are other factors required in order to build a porch without building regs:
The porch must be built at ground level
The front door between the original house and the new porch must stay in the same place.
Any extension can't have a negative impact on a building's accessibility. If a house has a ramped area to aid disabled people, a new porch cannot block off this area.
So long as you porch adheres to all these requirements, you will be exempt from needing building regulation approval. But what about planning permission?…
What is the maximum size porch you can build without planning permission?
A porch does not need planning permission if its ground floor area (measuredly externally) does not exceed 3 square metres. Other requirements for bypassing planning permission include:
No part of the porch can exceed 3 metres above ground level, as is the case for all home extensions.
No part of the porch can fall within 2 metres of the boundary of the road.
This is all that's standing in the way between you and your brand new porch. Of course, if you want a bigger porch than this, you can still do it! You just need to be prepared to apply for building regs approval or planning permission.
DW Windows can provide bespoke porches as big or as small as you want! For inspiration on how to further improve your home, read our expert blog on ideas for porches!
Can I build over or close to a public sewer?
If your porch falls above or within 3 metres of a public sewer, you need to start a dialogue with your local water company. A public sewer is one shared by two or more properties, located to the front, side or rear of the buildings. As such, it's vital that your building doesn't interfere with the sewage system.
If you have sewer pipes on your land, you cannot start a building project without water company approval. This is the case even if you are exempt from building regs and planning permission. Severn Trent can provide more information on building over sewers here.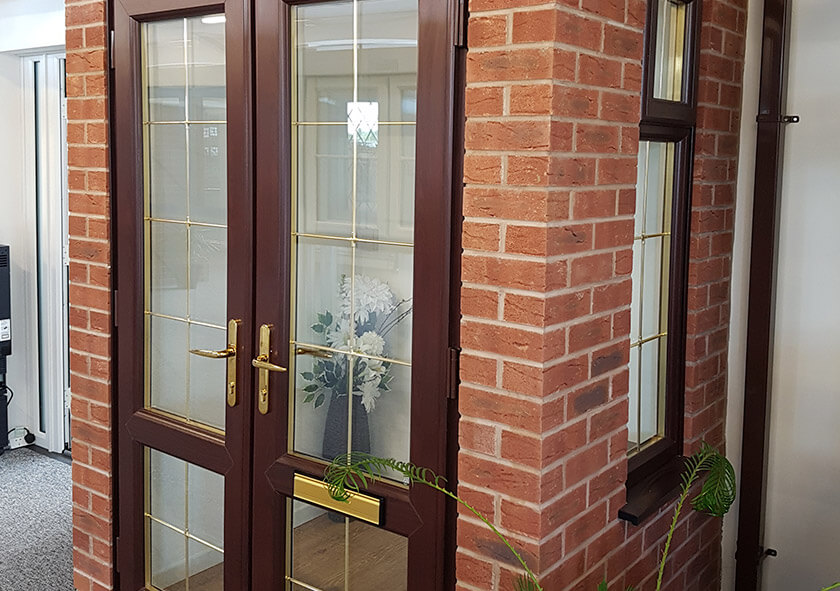 Porch FAQs
Can I build my own porch?
We'd strongly recommend that you don't build your own porch. Unlike something simple like decking, a porch requires a lot of different materials and building expertise. If you make a mistake, you could end up taking value off your home.
For the best quality of product, choose a trained, professional installer. Our fantastic team will ensure the installation of a uPVC or composite porch that is beautifully designed and structurally sound.
Does a porch need foundations?
Yes. Standard trench foundations will usually be between 600mm wide and 450mm deep. However, this can increase depending on factors such as the presence of tree roots or nearby drains.
You also need to ensure that the porch is properly attached to the original house. Any joining places must be sealed effectively to prevent water leakage and structural instability.
What is a porch for?
A porch offers a sheltered and peaceful place to hang your coat and store your shoes before entering the house. It's a fantastic way of decluttering your hallway and making for a more spacious home.
It also protects your front door from harsh weather and adds an extra layer of protection against intruders.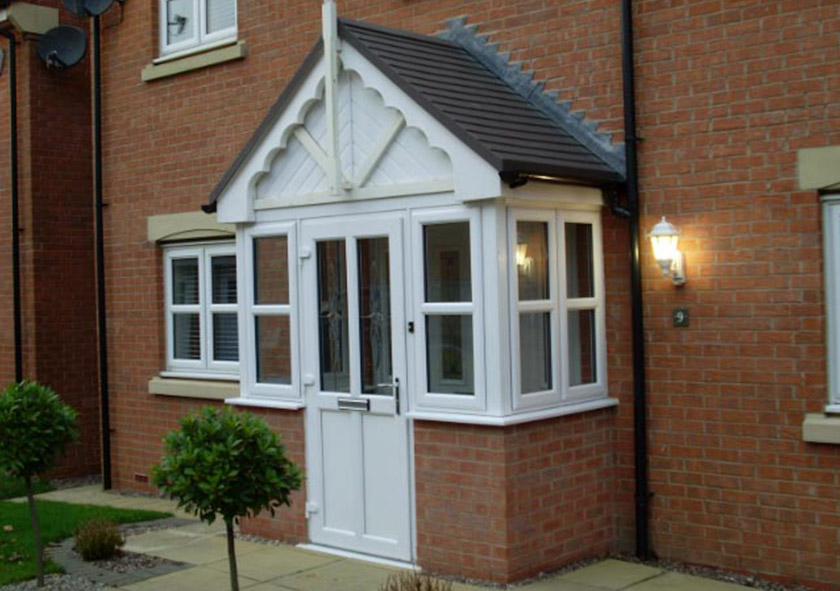 Bespoke porches in Wolverhampton and across the West Midlands
Walsall, Birmingham, Stourbridge, wherever you live in the West Midlands, DW Windows can install a stunning porch for your home. For more information please call us on 0800 999 0909, send us a message online or book an appointment.
Our friendly team are on hand to answer any further questions you may have on building regulations or planning permission! We are happy to guide you through all these processes, or even manage it for you for a small admin fee!
Related posts:
4 ways to declutter your porch
Do I need a FENSA certificate when selling my house?