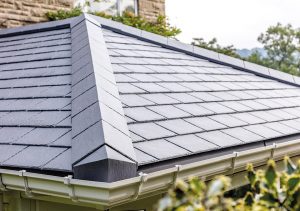 Extended living spaces are a wonderful thing! An appreciated addition to the home whereby homeowners should be able to relax, enjoy peace, and just generally use as they see fit, what happens when your orangery or conservatory starts to feel dated? Enter Equinox tiled roofs, the latest and greatest roof replacement system capable of locking in warmth and improving aesthetic style.
Why do we use Equinox tiled roofs as the best finish for our conservatories? Read on to find out:
The next step in replacement tiled roof systems
Equinix is a multi-layered design, capitalising on high quality insulation and lightweight exterior tiles to help reduce heat loss, annoying outside noise, and the other various issue which continues to plague extensions still making do with a polycarbonate roof. This modern evolution of the tiled roof is able to create a welcoming space, whatever the weather. Being easy to fit relatively quickly, resulting in benefits that will last a lifetime.
Designed by Eurocell, a market leader in window, door, and conservatory development, Equinox is every homeowner's dream in that once fitted, extended living spaces can enjoy a balanced temperature all year round. No longer will you be at risk of feeling the chill thanks to annoying draughts, rattles, and cold spots, instead feeling confident when stepping into your extended living space.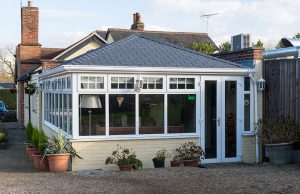 Seamlessly balancing comfort and aesthetic style
It's not just exceedingly low u-values and impressive thermal retention residents with an Equinox roof conservatory can look forward to, but exceptional style too. Each tiled roof replacement we fit using the system is engineered to look sleek and stylish, in any chosen shade, finish or colour. There are 11 tile styles to choose from in total, each tailored to suit at least one specific house aesthetic.
Effective weather-proofing means that this neat and sleek style of each securely-fitted tile will be successfully maintained for years to come. Warping, cracking, and fading is a sheer impossibility. A customisable roof pitch makes it easy for the system to adapt to conservatories of all shapes, layouts, and styles, making Equinox perfectly primed to be enjoyed by everybody.
Specialising in the reinvention of existing extensions
Equinox's ability to deliver energy efficiency that's 10x better than A-rated windows means being able to utilise and enjoy your extended living space more so than before. If you're conservatory is currently unloved, dilapidated, or just general unwelcoming to be in, let DW Windows do something about that with an Equinox tiled roof replacement.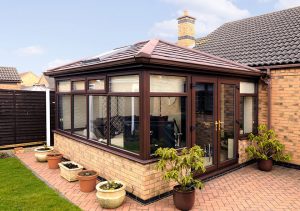 Equinox tiled roofs – Updating dated conservatories
Start enjoying your extended living spaces the way you're meant to with Equinox tiled roofs installed by the team here at DW Windows. Stylish, insulating, and totally adaptable, you'll never need to avoid using your conservatory ever again once installed. For more information, send us an online message or phone us on 0800 999 0909.