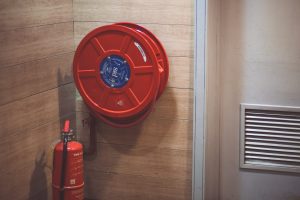 You may or may not be aware that following the horrific Grenfell Tower fire back in June 2017, the government put a national stop on Fire door manufacturing and installation right across the UK – after 5 mainstream fire door suppliers failed essential performance tests. Understandably, this has caused the West Midlands considerable worry across its many high-rise tower blocks, as well as thousands of other social and privately-owned properties.
With public sector fire safety work increasing by 56% over the last 12 months and just 7 out of 160 social housing blocks being made safe post-Grenfell (a meagre 4%), we are very pleased to announce that our FD30 Fire doors have been thoroughly re-tested and have passed the revised government fire door resistance tests both inside and out.
Official government guidance for those who want to replace fire doors or review their performance.
What is a 30-minute fire door?
The legal minimum requirement of how long a fire door can resist flames and smoke in the UK is 30-minutes (FD30). 30-minute fire doors are the most popular fire door installation applied across the West Midlands, which are around 10cm thicker than standard doors (approx. 44mm thick).
Where can I install 30-minute fire doors?
For fire doors to be effective, Building Regulations state that properties need to be split into compartments to create safeguarded routes via corridors and stairways, as well as providing a degree of protection for firefighters when entering the building to extinguish the fire.
Within homes over two storey's high, 30-minute fire doors must be fitted to every habitable room leading to a stairwell to comply with Building Regulations.
New build or renovated homes with 3 or more storeys, including loft conversions, must be fitted with 30-minute fire doors to every habitable room leading to a stairwell.
30-minute fire doors are also required in 2 storey houses, between the house and integral garage (if applicable).
Fire safety inside the home – helpful advice from West Midlands Fire Service
Full information on 30-minute fire doors and building regulations
Save and preserve life, with a professionally installed 30-minute fire door
It's important to bear in mind that correct fire door specification and installation play a key part in how your 30-minute fire door performs. So, for quality, affordable and reliable glazed fire door products contact the DW Windows team today and protect your investment with 30-minute fire doors that are truly built to last.